The OZEON® facade plate can be attached with all the usual fixations with which pressed mineral wool plate facades can be installed on a wood and aluminium sub-frame construction. Invisible by gluing, by screws or blind rivets.
A combination of strong, flexible and beautiful
OZEON® combines the advantages of stone, wood and genuine metal. It is robust as stone and it is easier to process than wood. Detailing with a slight roundness is no problem. In addition, OZEON® has the look of a genuine metal finish.
Simple processing
With OZEON® details can be finished in a fast and easy way. Detailing, sawing  to measure? A piece of cake! Sides finishing to protect them from moisture? Not necessary!
Possibility of seamless fixation
Unlike other sheet materials OZEON® hardly reacts to changes in temperature or moisture. Mind the conditions which the sub-frame construction must meet. Please contact us for advice.
Impervious to moisture
Side treatment to protect against moisture is only necessary at other sheet material or multiplexes. OZEON® is moisture resistant.
A really light weight?
OZEON® sheet material works faster and easier. The plates are much lighter than other sheet materials. It matters! • OZEON® Durable 8 mm plates 9 kg/m2
A corner solution for every detail?
A suitable solution for each corner. With an corner profile in the same finish.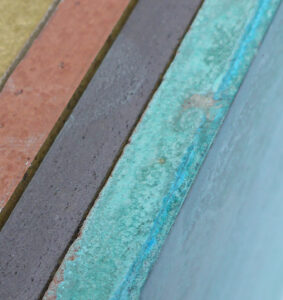 Sides in metal, also that is possible
If desired, the sides of the panels can be finished with the same metal.
To clean
If desired, the Ozeon® facade panel can be cleaned with water and a soft brush. Do not use any solvents or aggressive cleaning agents and abrasives. Do not sand.
Moisture may cause a natural discoloration which is common with real metal.